Europe Youth Meeting Medugorje
Karte nicht verfügbar
Datum/Zeit
Termin 30/12/2021 - 02/01/2022
Ganztägig
New Year's Eve
CHARIS Youth MEETING – in Medugorje
Wir finden die Veranstaltung super und laden Euch gerne im Namen von Charis Europe zum Neujahrstreffen in Kroatien ein.
Thema: Against the current (Gegen den Strom schwimmen.)
Referentin: Patricia Sandoval (https://www.youtube.com/watch?v=ZgS3Y-CwGwM)
Bestsellerautorin: Transfigured: Patricia Sandoval's Escape from Drugs, Homelessness, and the Back Doors of Planned Parenthood
Alter: 15-35
Teilnahmegebühr: 20 €
Kosten für die Unterkunft ca 15€/Nacht inkl Frühstück. Halbpension würde so um die 25-30 Euro pro Nacht kosten.
Eigenanreise.
Die Zuteilung in Unterkünfte würde über Josip (aus Kroatien) und sein Team erfolgen, sobald klar ist, wie viele Teilnehmer in der jeweiligen Gruppe kommen.
Wir werden keine Fahrt dorthin organisieren können, bringen aber gerne Mitreisende aus der JCE miteinander in Kontakt, wenn wir von welchen wissen, sind quasi wenns noch vor Weihnachten ist, eine Art Kontaktbörse, als lasst uns wissen, wenn Ihr Euch bei Josip anmelden solltet.
Anmeldung an: kkods.mladi@gmail.com
Informationen und Rückfragen: +385 99 699 0877 (Josip)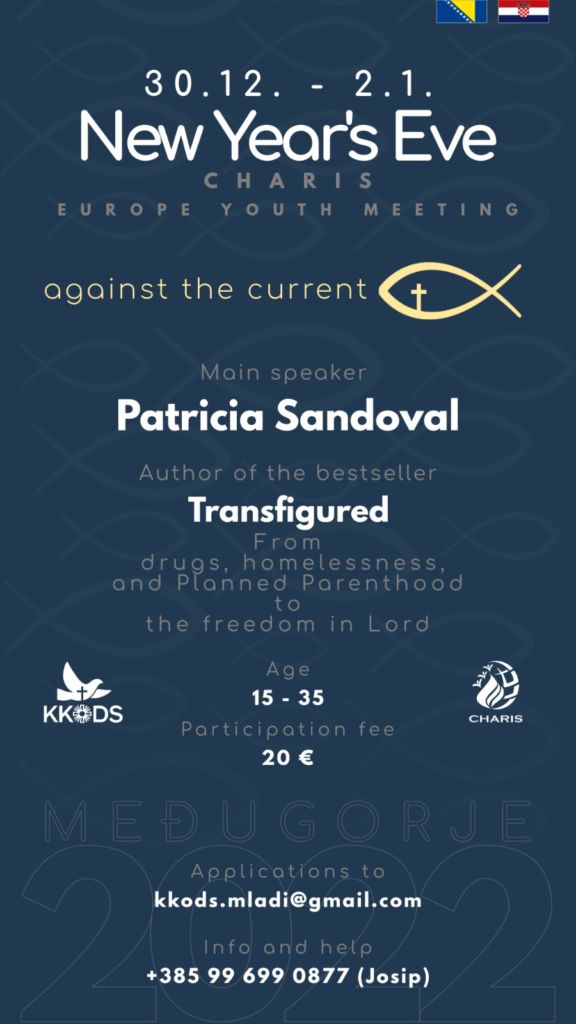 THURSDAY, December 30th
16.00 – Introduction: Praise and worship and introductory speech (M. Lukenda)
17.00 – P. Sandoval – 1st topic
18.30 – Holy Mass
19.30 – Adoration
20.00 – End of the program
FRIDAY, December 31st
09.00 – Celebration
09.30 – P. Sandoval – 2nd topic
10.30 – Pause
11.00 – P. Sandoval – 3rd topic
12.30 – Lunch break
19.00 – Swim against the current
20.30 – Holy Mass
21.30 – Praise and worship
22.30 – End of the program and celebrations
SATURDAY, January 1st
14.00 – Praise and worship
14.30 – P. Sandoval – Topic 4
16.00 – Pause
16.30 – Inner Healing and Physical Healing
18.30 – Holy Mass for Healing
19.30 – Prayer program – individual prayer for participants
SUNDAY, January 2nd
09.00 – Praise and worship
09.30 – Unity – Opportunity for Europe
10.30 – Pause
11.00 – P. Sandoval – Topic 5
12.30 – Holy Mass
13.30 – End of the program and final greetings